PerTronix Electronic Ignition Conversions
It has been half a century since breaker points were used in a new distributor, so why would you even consider running this ancient technology in your classic engine? A Pertronix Points Conversion kit allows you to run a stock distributor while improving the reliability and performance of your ignition system.
The Pertronix Ignitor kits simply bolt to the distributor in place of the points assembly and provide a much more accurate trigger signal. This improves the timing accuracy and prevents 'points bounce' at higher rpm. The electronic technology also improves the dwell control to improve the spark output of the coil resulting in a hotter spark at the spark plug.
Three different electronic ignition conversion kits are available, each with the ability to remove all of the mechanical variances and wear expected from breaker point systems. The original Ignitor Module is ideal for restorations while the Ignitor II provides increased starting voltage with adaptive dwell control. The Ignitor III features a digital rev limiter and five times the spark energy of a typical points system!
Ignitor Module Kits are extremely easy to install and fit into your original distributor to maintain your stock look. No additional ignition box is required keeping a clean look under the hood.
Ignitors are available for most distributors that came with mechanical breaker points and will cover AUTOMOTIVE, MARINE, INDUSTRIAL and AGRICULTURE applications.
Step up to one of our Electronic Ignition Conversion Kits and you'll never adjust points again!
Product Highlights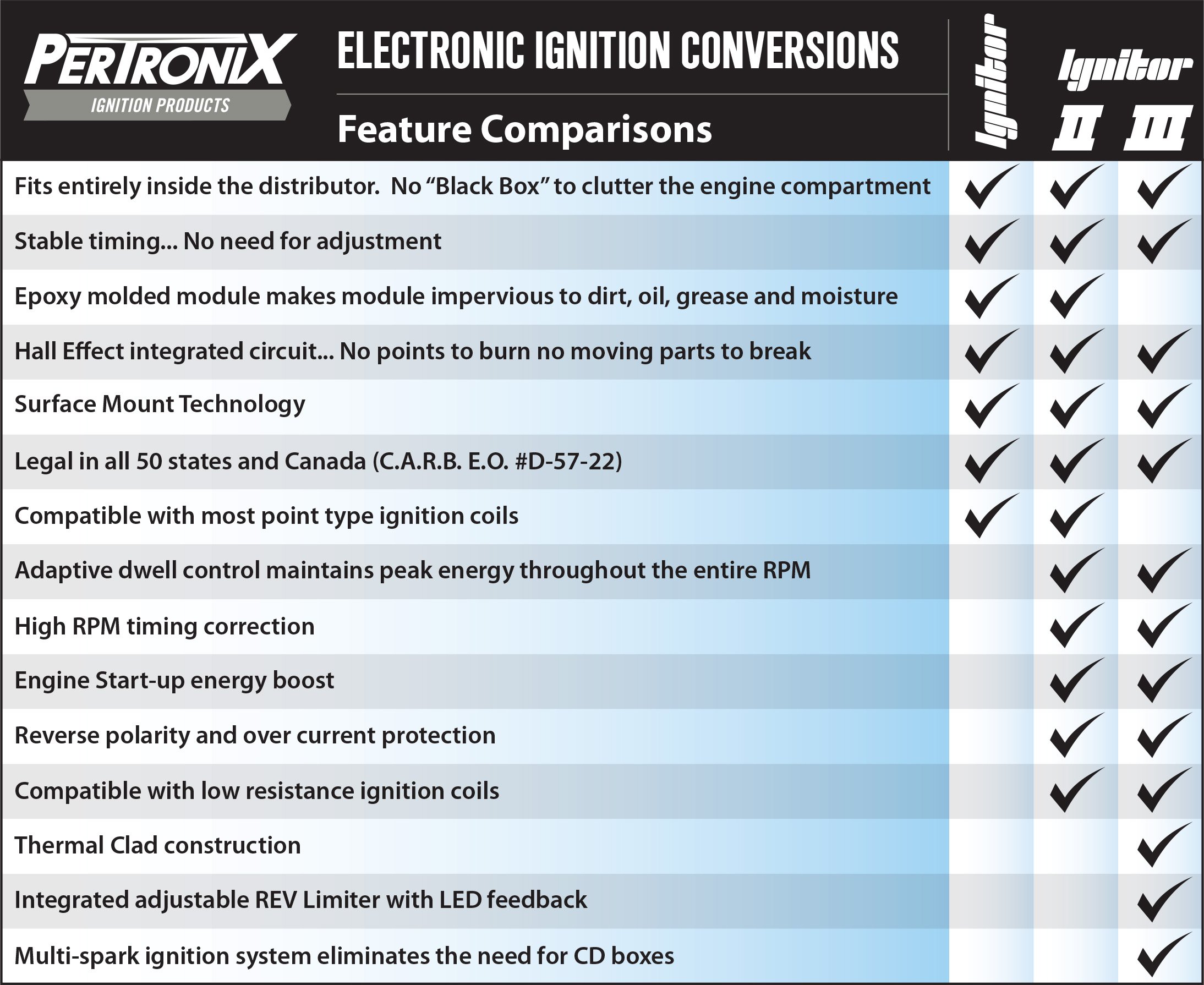 Ignitor Electronic Ignition System Comparison
Depending on the level of performance you are seeking, the Ignitor series features the "Original" Ignitor, Ignitor II and Ignitor III for Automotive, Marine, Industrial and Agriculture applications.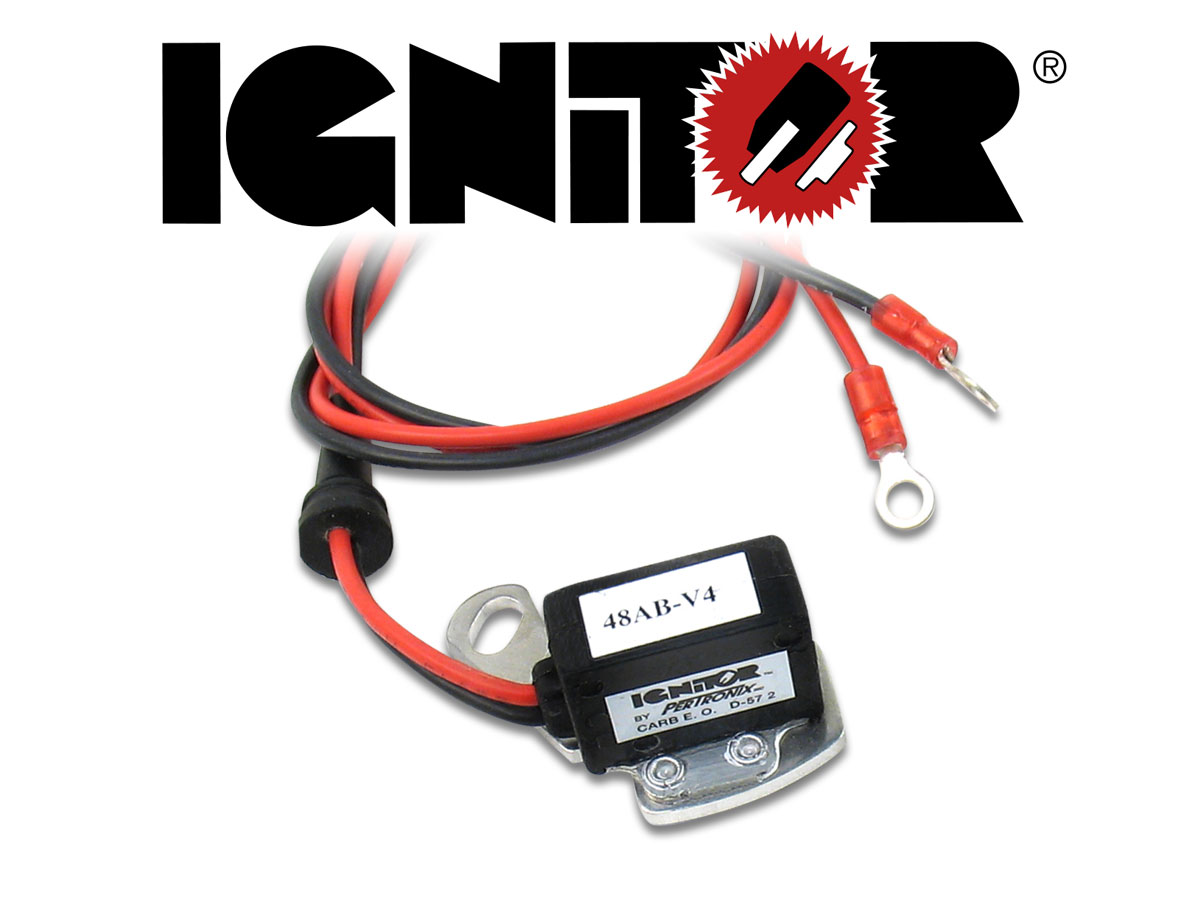 Ignitor Electronic Ignition Kit
The Ignitor Electronic Ignition has been called the "stealth" ignition because of its quick installation and nearly undetectable presence under your distributor cap.
Delivers twice the voltage to the spark plugs, increasing horsepower, fuel economy, and spark plug life
2:1 Improvement over "points" in current fall time for increased coil output
No parts to burn, no moving parts to wear out
Epoxy molding makes our module impervious to dirt, oil, grease and moisture
Legal in all 50 states and Canada (C.A.R.B. E.O. #D-57-22)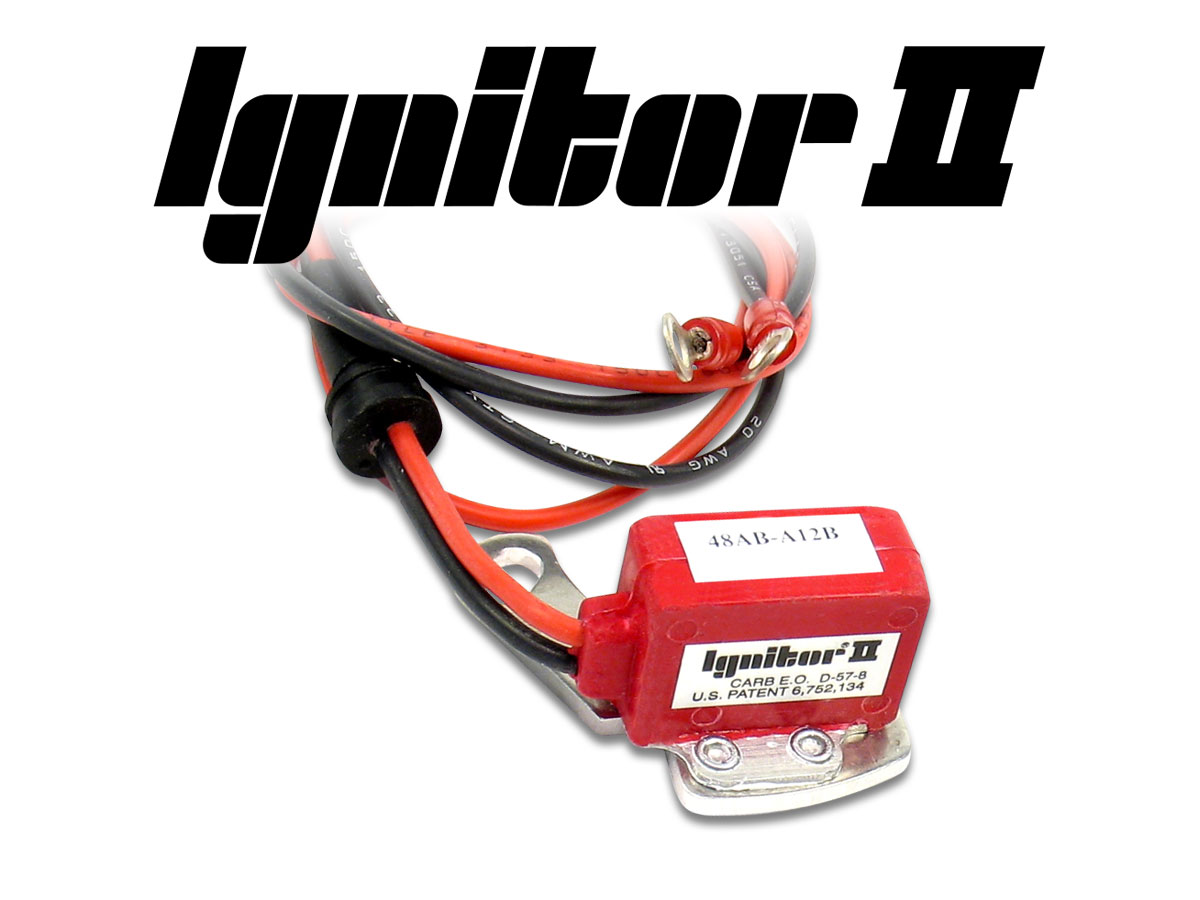 Ignitor II Electronic Ignition Kit
The Ignitor II Electronic Ignition takes the proven performance of the original Ignitor wrapping up even more features. The Ignitor II units sense the current coil level and use a powerful micro-controller to adjust the dwell.
Adaptive dwell maintains peak energy throughout the entire RPM range, reducing misfires while improving engine performance
Averages 4X more available energy between 3000 and 5000 RPM and 2X more available plug voltage
Synchronized peak current and spark timing reduces heat build-up
Senses start-up and develops more energy for quicker, easier starting
Legal in all 50 states and Canada (C.A.R.B. E.O. #D-57-22)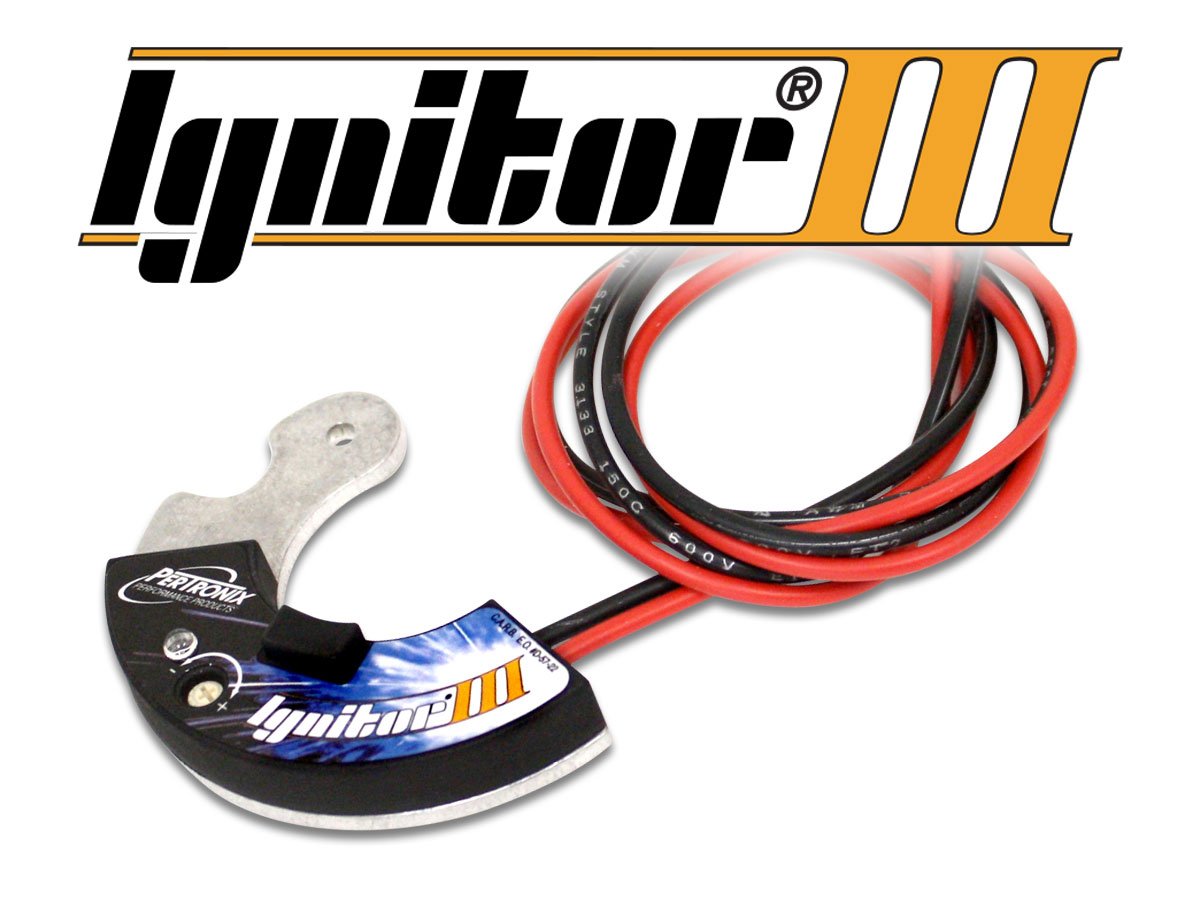 Ignitor III Electronic Ignition Kit
The Ignitor III Electronic Ignition is designed for the serious performance enthusiast who demands serious power. You'll experience 5 times more spark energy than a typical points system. Ignitor III modules provide ignition box performance without the "box". For maximum Ignitor III benefit, select one of the Flame-Thrower III or HC Ignition coils.
Integrated Digital Rev Limiter with LED feedback for precise RPM setting
Memory safe function stores setting eliminating unintended changes to REV limit
Peak current level is reached just prior to spark for maximum energy without the heat build-up, increasing coil performance and module reliability
Thermal clad surface mount construction for long life
Legal in all 50 states and Canada (C.A.R.B. E.O. #D-57-22)
PerTronix Tech Series - Installing a PerTronix Ignitor Electronic Ignition Module: Converting Points to Electronic Ignition
Everything you need to know about mechanical points vs. the PerTronix Ignitor Series Electronic Ignition Conversion Kits. From the innovator of points to the industry leader in Ignition, this will help you to make the leap. Read More
The Great Points Debate: Points vs. PerTronix