Never replace points again
Electronic Ignition Conversion Kits
The number one electronic ignition conversion kit to replace mechanical points
View ALL Electronic Ignition Conversion Kits
PerTronix Electronic Ignition Conversions
Never Replace Points Again when you replace points with an Electronic Igntion Conversion Kit!
PerTronix Ignitor products are the best-selling electronic ignition conversions on the market. Many classic and vintage cars, trucks, boats, tractors, and other vehicles came with mechanical breaker points within the distributor to trigger the ignition spark. Breaker points have many limitations including continual wear that changes the dwell, bouncing at high RPM that causes misfires and the need for constant maintenance.
PerTronix Ignitors solves these problems by replacing mechanical points with a dependable electronic ignition module design that never requires adjustment or replacement. In addition, it allows your engine to REV to a higher RPM because we've removed mechanical limitations or points bounce. PerTronix is also committed to today's fuel and emissions standards that require having a clean spark to efficiently burn fuel and maintain our environment.
Ignitor electronic ignition modules are extremely easy to install and fit into your original distributor to maintain your stock look. No additional ignition box is required keeping a clean look under the hood.
Ignitors are available for most all distributors that came with mechanical breaker points and will cover AUTOMOTIVE, MARINE, INDUSTRIAL, and AGRICULTURE applications.
FIND THE PERFECT PART
Search Products
Search by Vehicle
PerTronix Tech Series - Installing a PerTronix Ignitor Electronic Ignition Module: Converting Points to Electronic Ignition
Everything you need to know about mechanical points vs. the PerTronix Ignitor Series Electronic Ignition Conversion Kits. From the innovator of points to the industry leader in Ignition, this will help you to make the leap. Read More
The Great Points Debate: Points vs. PerTronix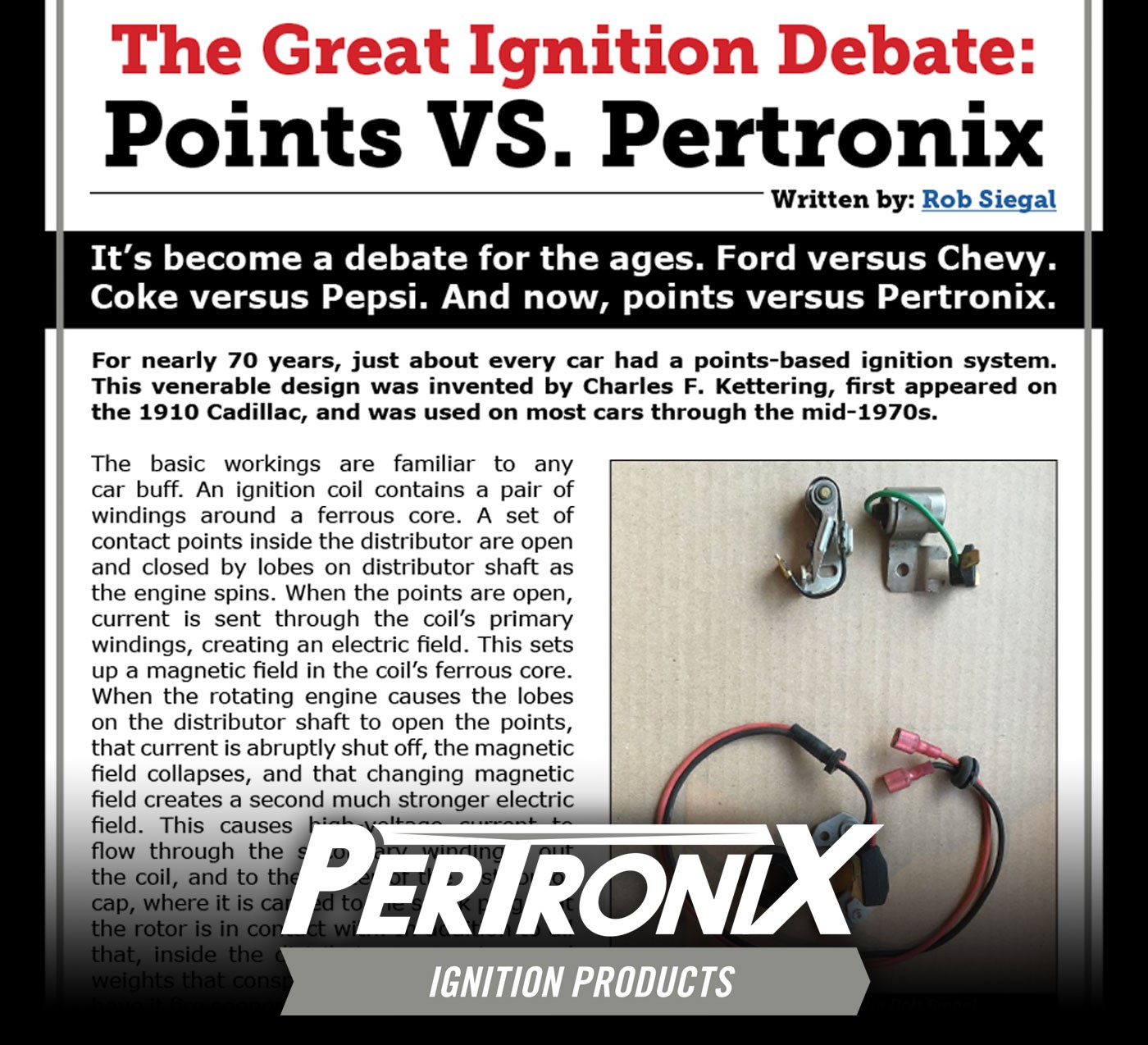 The Distributor Lookup tool is an additional resource to help identify the proper PerTronix Ignitor Point Conversion Kit for use with Factory or Aftermarket Distributors. You should always use the Year, Make, Model search to ensure the most comprehensive search results.