Search Products
Search by vehicle
PerTronix Electronic Ignition Conversions
It has been half a century since breaker points were used in a new distributor, so why would you even consider running this ancient technology in your classic engine? A Pertronix Points Conversion kit allows you to run a stock distributor while improving the reliability and performance of your ignition system.
The Pertronix Ignitor kits simply bolt to the distributor in place of the points assembly and provide a much more accurate trigger signal. This improves the timing accuracy and prevents 'points bounce' at higher rpm. The electronic technology also improves the dwell control to improve the spark output of the coil resulting in a hotter spark at the spark plug.
Three different electronic ignition conversion kits are available, each with the ability to remove all of the mechanical variances and wear expected from breaker point systems. The original Ignitor Module is ideal for restorations while the Ignitor II provides increased starting voltage with adaptive dwell control. The Ignitor III features a digital rev limiter and five times the spark energy of a typical points system!
Ignitor Module Kits are extremely easy to install and fit into your original distributor to maintain your stock look. No additional ignition box is required keeping a clean look under the hood.
Ignitors are available for most distributors that came with mechanical breaker points and will cover AUTOMOTIVE, MARINE, INDUSTRIAL and AGRICULTURE applications.
Step up to one of our Electronic Ignition Conversion Kits and you'll never adjust points again!
PerTronix Tech Series - Installing a PerTronix Ignitor Electronic Ignition Module: Converting Points to Electronic Ignition
Everything you need to know about mechanical points vs. the PerTronix Ignitor Series Electronic Ignition Conversion Kits. From the innovator of points to the industry leader in Ignition, this will help you to make the leap. Read More
The Great Points Debate: Points vs. PerTronix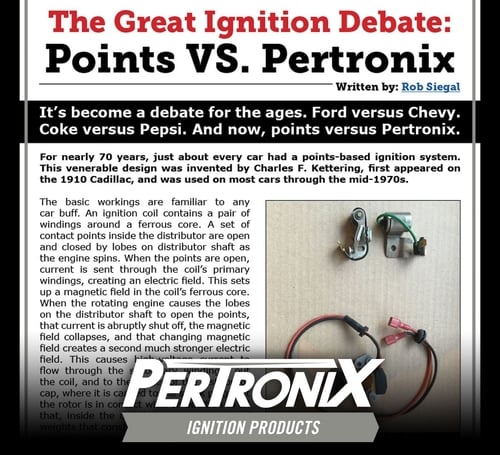 The Distributor Lookup tool is an additional resource to help identify the proper PerTronix Ignitor Point Conversion Kit for use with Factory or Aftermarket Distributors. You should always use the Year, Make, Model search to ensure the most comprehensive search results.