Search Products
Search by vehicle
JBA Headers
The first step in creating an efficient and powerful exhaust system is the addition of a set of premium headers. Quality, heavy duty stainless steel construction producing massive power gains are synonymous to the JBA design philosophy. We offer a variety of SMOG Legal CAT4Ward Shorty Headers and racing Long Tubes to suit most car, truck and SUV applications.
Product Highlights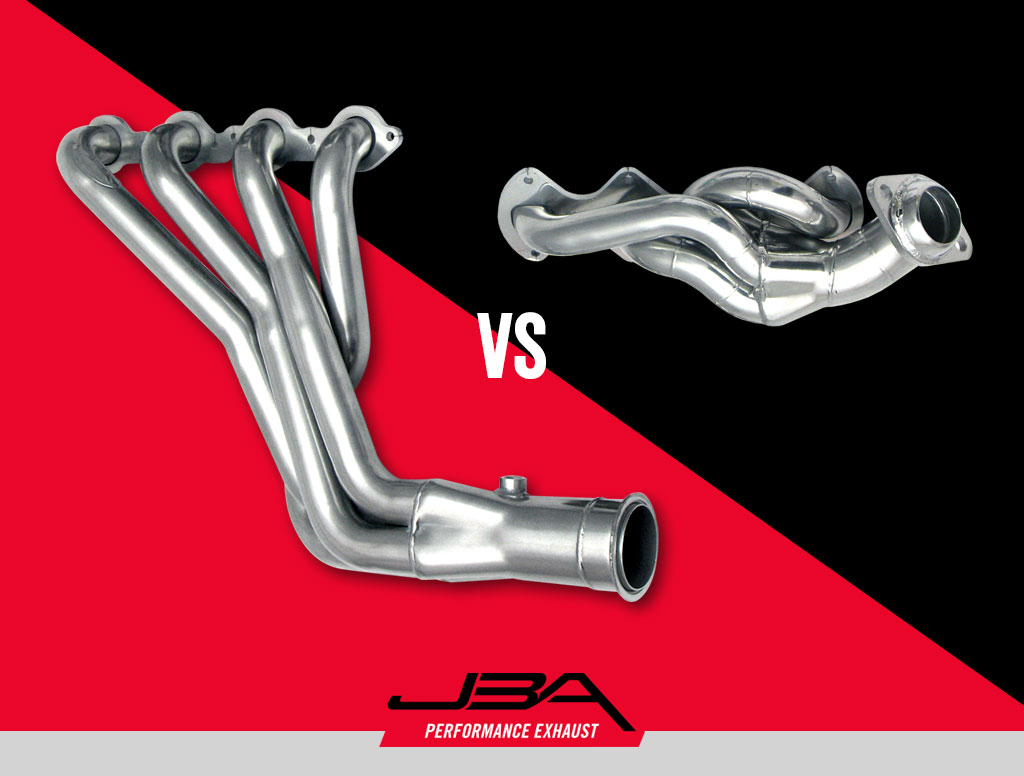 The Long and Short Of It: Shorty Headers vs. Long Tube Headers
So, you're wondering do I need a Shorty Header or a Long Tube Header for my application and what's the difference?
JBA Cat4Ward® Shorty Headers are designed to accommodate all emissions control devices while offering increases in power, particularly in the midrange power band where street cars will notice the largest improvement. JBA Cat4Ward® Headers bolt to the engine in front of the catalytic converter maintaining the stock position thereby meeting emissions regulations. JBA works with the California Air Resources Board (C.A.R.B.) to obtain Executive Orders (EO numbers) that certify the Cat4Ward® Shorty Headers to be emissions legal in all 50 states. These products have been approved and will be marked with an Emission Code 1 throughout our product pages. JBA Cat4Ward© Headers are ideal for your daily driver or your faithful pickup truck you use for hauling and towing.
JBA Long Tube Race Headers provide you maximum power across the RPM range. Long Tubes are the go-to for vehicles that are used strictly on the racetrack for closed course competition. Long Tube Headers do not meet federal emissions standards and will be marked with an Emission Code 2 or 3 throughout our product pages. Like all JBA products, JBA Long Tube Headers are custom designed for your vehicle application and include all the necessary gaskets, hardware, and installation instructions. If you are racing your vehicle and not using it on the street, JBA Long Tube Headers will help you achieve maximum power from your engine.
Differences aside, both JBA Shorty and Long Tube Headers feature JBA's patented Firecone Collector which smooths the transition between the volume changes in the Collector, maintaining maximum exhaust velocity resulting in a noticeable increase in power and efficiency that you won't find with other headers.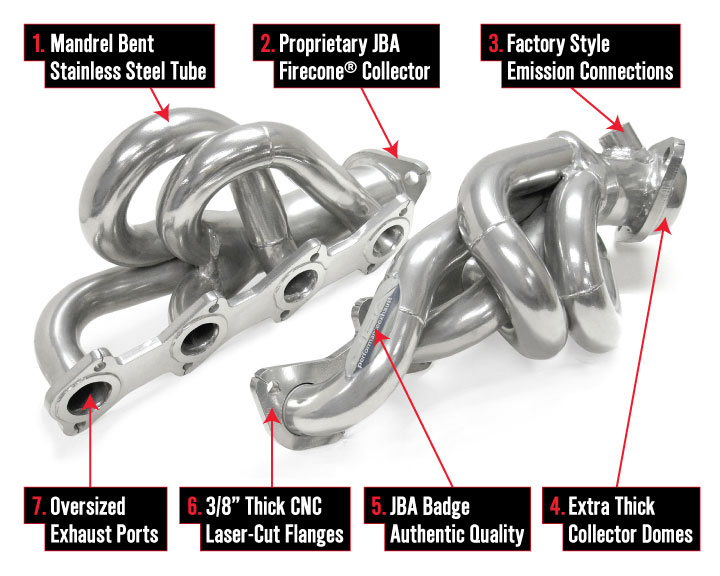 Cat4Ward Headers: Performance Through Technology
JBA's shorty design is a modern innovation of the old header design. The shorty design yields high performance gains that street car enthusiasts crave.
Mandrel-bent stainless steel primary tubes creates the best flow, extended durability and improved throttle response
Proprietary JBA Firecone® collector design uses race proven technology for maximum power and torque gains in a street legal header
Factory style emission connections makes for easier installations and ensures a legal install
Special formed, thick, collector domes will not distort and leak like inferior designs
JBA 3/8" thick CNC laser cut flanges to prevent warping combined with sealing beads to prevent leaks
Oversized exhaust ports are designed for optimum performance maintaining maximum exhaust velocity
C.A.R.B. E.O. Certification where applicable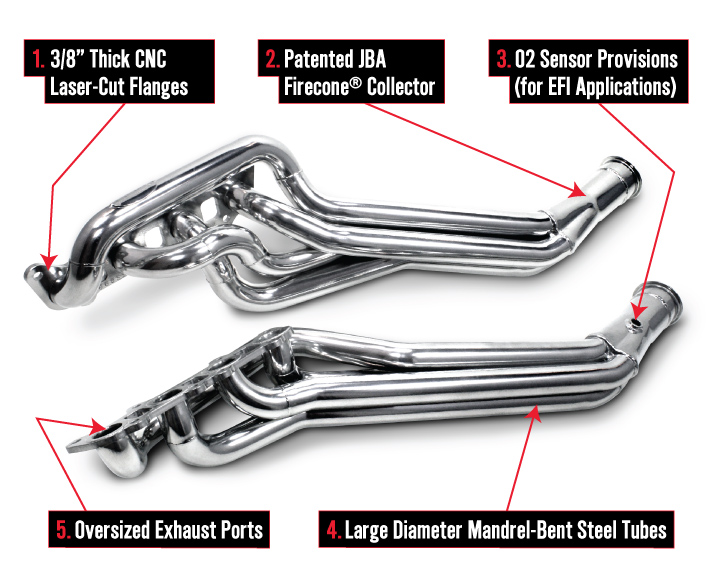 Long Tube Race Headers: For Closed Course Competition
JBA Long Tube Headers are the number one choice for maximum performance gains and high RPM efficiency. These Long Tube Header designs are dyno and race proven to deliver the greatest possible increase in horsepower and torque throughout the RPM range.
3/8" thick CNC laser cut flanges to prevent warping combined with sealing beads to prevent leaks
Proprietary JBA Firecone merged collector for increased HP/Torque and improved exhaust scavenging
O2 sensor provisions on EFI headers for proper connection
Large mandrel-bent stainless steel primary tubes for maximum flow and high RPM efficiency
Oversize exhaust ports to accommodate ported cylinder heads
Quality Finishing
Stainless Steel: All JBA headers feature stainless steel construction for maximum durability. Stainless steel is stronger than mild steel and minimizes exhaust noise. Bare stainless finish. Street to Severe-Duty.
Silver Ceramic: Silver Ceramic coating can withstand metal temperatures more than 1500º F. The coating provides a polished silver appearance. Street to Severe-Duty.
Titanium Ceramic: Titanium Ceramic is the most durable finish available. It is offered for those applications that are subject to severe conditions. The finish has a heat range of 1600º F and has a gray titanium color. Extreme-Duty.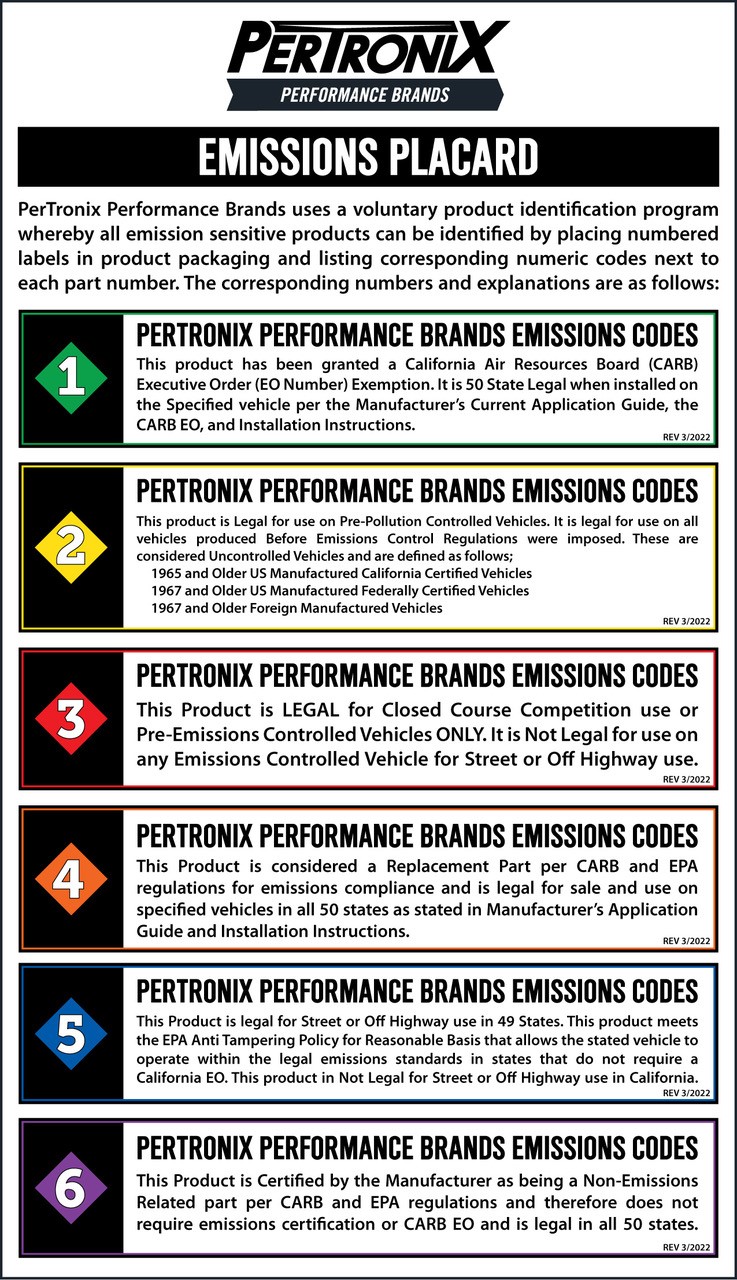 Understanding Emissions Codes
JBA understands the importance of blending performance with today's mandatory emissions regulations. JBA works closely with C.A.R.B. to gain E.O. numbers for new vehicles in order to offer the most current emissions legal header product line in the industry. We are committed to our customers and the environment.
Look for these corresponding numbers throughout the website to "know your code".
FIND THE PERFECT PART
Search Products
Search by Vehicle